Eis uma Novidade, ao contrário dos fios de Crómio, que estão sempre a partir, e só cortam a direito, eis algo que vos permite cortar Perfis, e até tornear peças circulares.
Aposto como também servirá para dobrar chapa de Acrílico...


A new twist to the hot wire foam cutter
I'm not going to go into too much detail on building a hot wire foam cutter here. There are tons of great instructables and videos already. I am going to show you how my laziness and impatience in building one paid off with a new material to use that will allow you to bend the wire into shapes to cut with.



Como há Lojas das Rodas em todo o lado, podem fazer esta Bicicleta sem pedais, que é muito melhor para habituar os Míudos a andarem de bicicleta, que as miseráveis Bicicletas com Rodinhas...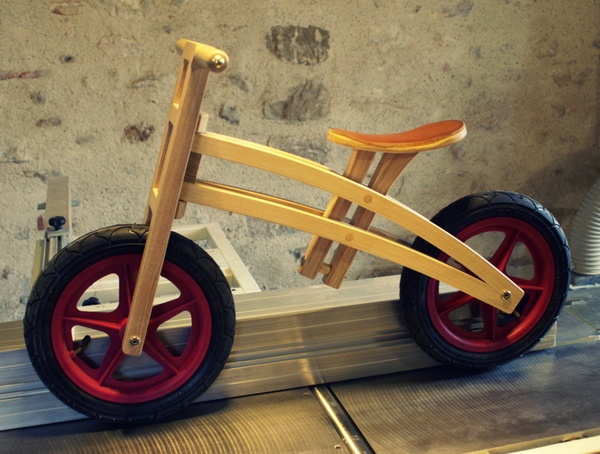 Draisienne en bois pour enfant
Voici une draisienne entièrement réalisée en frêne.
Le cadre et la tige de selle a été réalisés grâce à la méthode du lamellé collé. Alors que tout le guidon est en assemblage tenons / mortaises classique.
L'idée première était de tourner les roues de 12 pouces en bois. Mais n'ayant pas trouvé de solution satisfaisante pour le contact avec la route, je me suis rabattu vers vers des roues classique avec pneu et chambre à air. Faut pas toujours tout réinventer ;)



http://www.lairdubois.fr/creations/225-draisienne.html
E se tiverem uma Placa Gráfica decente, esperimentem este programa de rendering On-line, que vos fará maravilhas para apresentar os vosso Objectos como deve de ser:
Lagoa



Lagoa makes photoreal 3D content creation accessible right in your browser.

Lagoa utilizes the power of cloud processing for photorealistic 3D visualization and collaboration, allowing users to create high quality renderings right in their web browser. Fast and powerful, Lagoa enables 3D artists, designers, engineers, architects and advertisers to collaborate while rendering and finalizing spectacular 3D content.


Lagoa offers:

Cloud-based rendering with lightning-fast render times
Optically accurate advanced materials
Collaborative co-editing
Real-world camera settings
Volumetric accuracy for complex objects
And more

http://grabcad.com/toolbox/lagoa