AVEIRO BRILHA!
A Universidade de Aveiro, e estes génios do Departamento de Electrónica, Telecomunicações e Informática da dita Universidade, estão de parabéns, por inventarem esta Bengala que avisa o Cego da existência de Obstáculos como buracos e declives, pela frente!
Primeiro lido no Jornal Destak de hoje, e esta notícia vem da Revista Sábado, eis como se avança a sério, com a Tecnologia: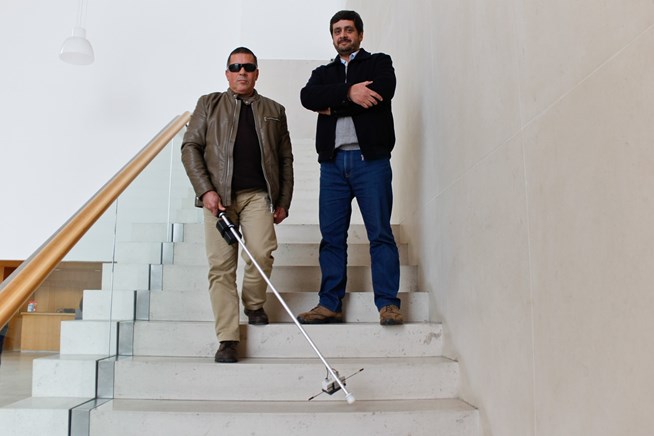 Universidade de Aveiro cria bengala electrónica para cegos




Uma bengala que utiliza ultrassons para detectar buracos e declives com o objectivo de ajudar pessoas com deficiência visual está a ser desenvolvida na Universidade de Aveiro (UA). A bengala, já em fase de protótipo, produz vibrações no punho avisando com isso o utilizador que se aproxima, por exemplo, de uma escadaria ou de um buraco no pavimento.




O projecto nasceu no Departamento de Electrónica, Telecomunicações e Informática como resposta a um desafio lançado pela Associação Promotora do Ensino dos Cegos (APEC) que quer acabar com as centenas de acidentes sofridos anualmente pela população invisual portuguesa, muitos dos quais com consequências graves, causados por obstáculos indetectáveis com uma bengala normal.



A Mindsets vende, por cerca de metade do Preço anterior, este magnífico Microscópio 3 em 1, que é tanto um Microscópio normal, como tem capacidades Digitais, com uma respeitável Resoução de 1280*1024 Pixeis...
E ainda pode ser removido da sua base, para uso em Trabalho de Campo!
É de aproveitar!
3 in 1 Digital Microscope




'Digiscope' can be used either as an ordinary or digital microscope.
Detatchable head for handheld use.
USB 2 connection.
Resolution SXGA - 1280 x 1024.
Includes:
Software CD (compatible with: Windows 7, Vista, XP, 2000 SP4, Mac OSX 10.4.8 - 10.6.2),
1 sample slide and 3 blank slides,
dropper and forceps.
3 magnifications:
50x - 100x
100x - 200x
200 - 400x
Mais uma Forja, desta vez, feita com o Tambor dum Travão, para verem que se pode fazer de tudo...
Com Sucata!
Muáháháhá!
Brake Drum Forge

Straklin




My brother (Bigdaddycole) and I have been talking about building a forge for some time. We finally found some time over the last few weekends and put this together. We used a lot of stuff we had in house, so it was a cheap build. Please comment if you have suggestions or improvements. We have also entered this in the "On a Budget" contest, so if you like it please vote. We hope you like this build!
DISCLAIMER: When using an angle grinder, make sure you use eye protection and gloves. Also make sure you are working in an area free from combustible material. It throws off a lot of sparks and hot metal. Know how to use your tools safely! Be safe, and have fun!



E para algo de hipnóticamente Geek-espectacular, eis como construír uma Escada de Jacob...
Helicoidal!
Um regalo para os olhos!
Helical Jacob's Ladder

imarhino

Helical Jacob's Ladder Project:

experience level: beginner
parts needed include: transformer, power cord, bare wire, wire nuts, wood block, wood screws, wooded dowel and a nail
tools needed: screwdriver, wire stripper, wire cutter, and drill
Safety notice: Always unplug or isolate a device from its power source when servicing!
Perform these tasks under the direct supervision of a parent or a trained adult!